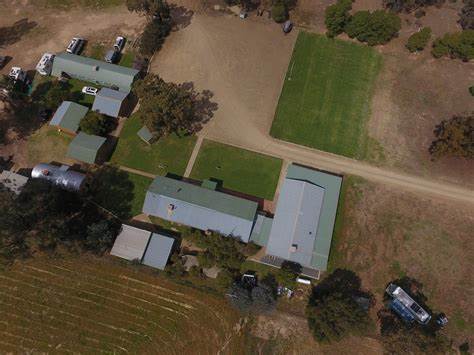 Camp Kurrajong phone number 02 4631 6659
Riverina Scouts Region Office phone number 02 6921 3066
Facilities Available at Camp Kurrajong
Accommodation
Merrett Buildings 6 rooms each containing 4 double bunk beds (48 People)
Stenhouse Building 5 rooms containing 2 single beds, 1 room with a 1 single bed. (Accommodates 11 people) (Has disabled access and a disabled bathroom/toilet as well as a small household size kitchen and dinning area)
The Pitchford Igloo 3 rooms – 4 single beds, 5 single beds, 8 single beds (Accommodates17 people)
NOTE: A bottom sheet is provided for each bed and hirers need to bring their own bedding (sleeping bag etc), pillow and towel.
Two large ablution blocks with instantaneous hot water (town water) and disabled facilities.
Two large entertainment and activity halls
Sundstrom Hall provides a large commercial kitchen and dining / activity area. 1 room with a 1 single bed. (Some catering services available on request at extra cost).
Pitstock Hall provides a smaller kitchen and large activity area.
Hire Costs as at 1st of April 2022
Accommodation $25.00 per person per night
Stenhouse Building $30.00 per person per night if also using the Kitchen facilities
Sundstrom Hall $300.00 per Day
Pitstock Hall $200.00 per Day
For a group of 40 or more $30.00 per person per night including the Pitstock Hall
For a group of 40 or more $32.50 per person per night including the Sundstrom Hall
For a group of 40 or more $35.00 per person including both Pitstock and Sundstrom Halls
Caravans – 6 sites with power and water at $17.50 per night (2 adults), subject to prior bookings
Camping – 13 acres are suitable for all outdoor activities at $7.00 per person per night